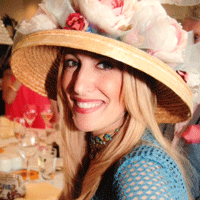 My name is Nina Ventura and I am an avid sacred art collector from Adelaide and my love and passion for exploring antique markets began while living in Italy many years ago.
In more recent years I began collecting vintage mannequins, with the intention of using them as my canvases on which to transfer my collection of images and other antique treasures.
Many mannequins from all over the world have been thrown out over the years and relegated to landfill. They were perceived as being no longer 'good enough' to be used in store windows. Some had only minor scratches while others were hugely damaged with cracks, sections or limbs missing. Others were discarded simply because they became outdated and no longer relevant to the current trends of that era. It was out with the old and in with the new!
I take pride in giving new life to these mannequins – another chance at being 'useful'. They are no longer working mannequins. They are now retired, happy to be admired and appreciated.
They are decorated with works made by so many different artists and artisans over the years, whose crafts, skills and expertise, I bring together to produce my artworks today.
Art fills me with a sense of accomplishment and integrity and has proven a most willing vehicle for translation of an inner vision into reality.
SOLO EXHIBITIONS
2021 SALA Festival, 'Reflections on War'
16 August – 18 September 2021, Coccobello Restaurant, Frewville AUSTRALIA

CARNEVALE AUSTRALIA Meets Hollywood Masquerade Ball
6th Nov 2017, The Pensinsula Docklands, Melbourne AUSTRALIA
2017 SALA Festival
'Saints & Sinners' by Nina Ventura
2nd August 2017 – 28th August 2017, Adelaide Convention Centre – AUSTRALIA
CARNEVALE AUSTRALIA, Amore Ball
11 Feb, 2017, Peninsula, Docklands, Melbourne, AUSTRALIA
'The Three Queens'….by Nina Ventura
29th June 2016 – 25th July 2016, Burnside Council, Atrium Area – AUSTRALIA
2014 SALA Festival
'Vintage Mannequins & Sacred Art…A Collector's Journey' by Nina Ventura
August 2014, Miss Gladys Sym Choon, Rundle St, Adelaide AUSTRALIA
'Vintage Mannequins & Sacred Art … A Collector's Journey' by Nina Ventura – March 2014, Carclew House, Adelaide AUSTRALIA
ACCOLADES RECEIVED
Bank SA Norwood, 'Business of the Month' – Oct 2015
Finalist SALA 2014 – Advertiser Contemporary Art Prize
GROUP EXHIBITIONS
2021 SALA Festival, '4 Women with a Palette'
6 – 29 August 2021, Bridgewater Arts Centre – The Church, AUSTRALIA

transformARTive 2019 (Youth Opportunities Association)
Transformed Coca-Cola Collector Bottles
Feb 15 – March 17, ADELAIDE FRINGE Festival – The Garden of Unearthly Delights, AUSTRALIA
2019 Jane Seymour OPEN HEARTS GALA
Honouring the 2019 Open Hearts Award and Grant Recipients
Feb 15 – 17, 2019, Beverley Hills, California USA
transformARTive 2018 (Youth Opportunities Association)
Celebrating The Sherrin Football
Aug 9 – 31, 2018, Plant 4, Bowden, Adelaide AUSTRALIA
2016 SALA Festival
'Mannequins And Their Moods'….by Nina Ventura
31st July 2016 – 28th August 2016, Adelaide Convention Centre AUSTRALIA
2015 SALA Festival
'Vintage Mannequins & Sacred Art …The Journey Continues' by Nina Ventura
August/September 2015, Adelaide Convention Centre AUSTRALIA*
* Invitation from Dept Protocol & Cabinet to extend exhibition until Shandong Party Secretary & Delegation's Adelaide visit
Advertiser Contemporary Art Prize Exhibition – July/August 2014, Keith Murdoch House, Adelaide AUSTRALIA
COLLABORATORS & FRIENDS